Darling Hill
Senior Elite from 2007-2008
Age Now: 22
Darling Hill grew up without a mother. Her mom was into drugs and she got adopted by her grandmother; Elouise when she was just 3 days old. In early 2008, Elouise passed away. Darling was devastated and stopped coming to the gym. It was her coach who convinced her to keep training and not give up. Shortly after, Darling was named a member of the 2008 Pacific Rim team where she helped Team USA win the gold medal and took home a gold medal for herself on floor. At this time, she spelled her name "Darlene." After her grandmother passed away she found her name was actually spelled "Darling" and she got her name legally changed. Darling and her coach had high hopes for the rest of the 2008 season. Darling signed with a paid sponsor called Gattaca, which ruined her future NCAA eligibility. As the games neared, she started dealing with shoulder injuries and sprained her ankle. Darling didn't make it past the Olympic trials. After the games, she mentioned making a comeback for 2012, but her shoulder never healed, forcing her to retire.
Then:
(Photo Credit: USA Gymnastics)
Now:
(Photo Credit: Darling Hill)
Alecia Musser
Junior Elite in 2007
Age Now: 19
The sister of Penn State Star; Sharaya Musser, Alecia was born into a gymnastics family. She had 3 sisters who all did gymnastics, although she and Sharaya were the only ones to make it to the elite level. Alecia placed 3rd all around at the 2006 JO Nationals and placed 2nd all around in 2007. Later that year she qualified to elite, placing 18th all around at the 2007 Visa Championships. Both Alecia and Sharaya wanted to go to the 2008 Olympics, but it was never to be. Alecia retired in the fall of 2007 after injuring her back. She is now engaged to be married on May 26th.
Then:

(Photo Credit: The Denver Post)
Now:
(Photo Credit: Alecia Musser)
Amber Trani
Junior Elite in 2005
Senior Elite from 2006-2008
Age Now: 22
Amber Trani began competing as an elite in 2005, proving to be a contender along the way. At the 2007 Pan Am Games she helped team USA win the gold medal and won a silver on her best event; the vault! Later that year she placed 11th all around at the 2007 Visa Championships. Amber's Olympic journey ended at the 2008 Olympic Trials where she placed 18th all around. In training, Amber injured her back and had to red shirt her first year at the University of Georgia. While only being able to train lightly at Georgia, Amber had not competed since 2008. At the end of the 2009 College season, Amber was forced to take a medical retirement. Amber will graduate from the University of Georgia this year and is working in the media/journalism field.
Then:
(Photo Credit: Inside Gymnastics)
Now:
(Photo Credit: Amber Trani)
Rachel York
Junior Elite from 2005-2006
Age Now: 19
Rachel emerged onto the scene in 2005 where she placed 25th all around at the Visa Championships. In 2006, she improved her ranking to 22nd all around. She also placed 4th on floor and 12th on vault. Rachel decided to take a break from gymnastics in 2008, a few months later she switched gyms. She moved from Kraft Academy to Jenks gymnastics where she started competing level 10. In 2010, Rachel moved back to Kraft and then eventually settled in Oklahoma at Dynamo Gymnastics. Rachel is now on a full scholarship to Central Michigan.
Then: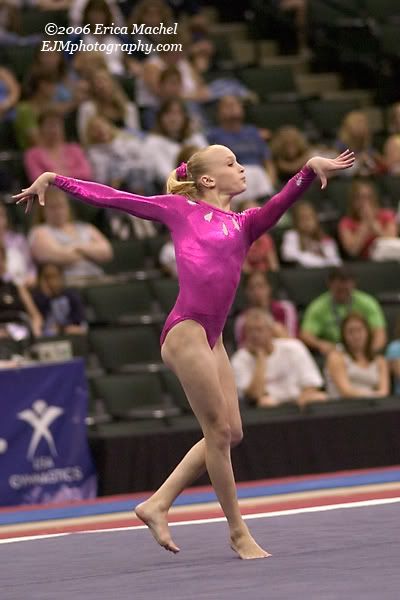 (Photo Credit: Erica Machel)
Now:
(Photo Credit: Rachel York)
Melissa Metcalf
Junior Elite in 2008
Age Now: 16
Many people remember Melissa for her performance at the 2008 Visa Championships where she became a fan favorite. She placed 20th all around and tied for 9th on bars! In 2009, Melissa got injured and dropped down to level 10, she only competed on beam and floor that season. Towards the end of the 2010 season, Melissa competed as an elite again winning a gold medal on vault and bars at the Malibu Coast Challenge. She decided to drop back down to level 10 after that meet. Melissa is still competing as a level 10 today, but only competed on bars in the 2012 season due to an ankle injury. Melissa would like to receive a scholarship to a division 1 college after she graduates high school in 2014. Her older sister, Sheridan will be competing for the University of Washington next season.
Then:
(Photo Credit: Gym Nerd)
Now:
(Photo Credit: Melissa Metcalf)
Read our other former elite stories!